INSTRUCTIONS ON A 45th BIRTHDAY CELEBRATION!

1. Neck kisses and birthday song to start the day!

2. Morning coffee and cuddles in bed. Watching CBS with Charles Kuralt and of course Dave and lots of dog kisses.

3. The Perfect gift for a picture gal! Slideshow/MP3 music, 7" LCD screen picture frame...Waahoo!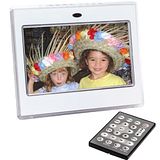 4. Early movie (Little Miss Sunshine) that makes you both laugh until you cry.

5. Great gourmet dinner of shared Chicken Marsala and Mesquite Tri-Tip. Excellent! (had trouble tasting it all with my cold) LOL

6. Home for white cake with white frosting. Ahhhhh!

7. Happy Birthday cards and messages from loved ones.

8. A huge thank you to God for one more year with Dave!!!!!!!!!!!!!!!!!